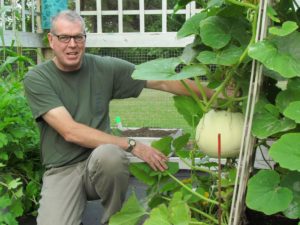 Presenter:
Mick Manfield
Workshop:
This workshop will cover and compare the different methods of growing vegetables outdoors, traditional row gardening, container growing, raised bed growing and permaculture growing.
Bio: 
Mick emigrated to Canada in 1999 after a 23-year career in the British Army and learned to garden in England alongside his Dad and Granddad.
Mick gardens on a 1 acre lot in Lockport where he grows vegetables in a Square Foot Garden that measures 32 ft x 32ft. In this garden he grows 50 different varieties of vegetables, salads, herbs and fruits.
Mick is a certified Square Foot Gardening Teacher, Master Gardener and Master Composter. Mick is passionate about gardening and learning new gardening techniques.
Over the last 4 years Mick has presented workshops on Square Foot Gardening techniques, Seed Starting, planning your Vegetable Garden, Basic Gardening for newcomers to Manitoba, Backyard Composting and Owning a Hobby Greenhouse to gardening clubs, community clubs, small businesses and at Gardening Saturday.
Mick serves on the Board of Gardens Manitoba as the current President.
Email: