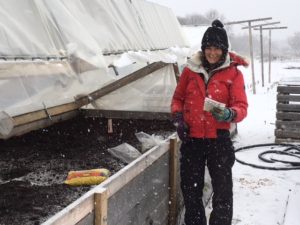 Presenter:
Tiffany Grenkow  – Urban farmer/Orchard steward @ Sustainable South Osborne Permaculture Commons
Workshop:
Helpful methods to improve health and structure in heavy clay based soils. This common nutrient rich component is hard to appreciate in mid-summer when it dries and looks like concrete. Gardeners and plants will benefit from an organic sustainable approach to amend and properly manage clay soil.
Bio: 
Gardening passionately for 25 years Tiffany was destined to produce too much food for her small family. She now grows specialty produce and edible flowers for local restaurants. Tiffany also sells sweet potato slips and is a volunteer orchard steward for an urban food forest in South Osborne.
Website:
http://www.southosbornecommons.ca
Email: