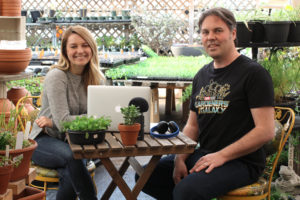 Presenters:
Dave Hanson – Owner of Sage Garden Greenhouses, co-host of The Grow Guide
Maggie Wysocki –  Owner of From Soil to Soul, co-host of The Grow Guide
Workshop:
The Grow Guide is a weekly gardening podcast co-hosted by rookie grower, Maggie Wysocki, who asks all the questions you're too afraid to, and master grower, Dave Hanson, who answers them all with great wisdom. They chat openly about seasonal gardening topics, including the trials, tribulations and successes of growing in climates where it can feel…kind of impossible.
For the first time ever Dave and Maggie are hosting and recording the podcast live at Gardening Saturday! Come out as Dave and Maggie discuss Gardening topics and answer questions form the audience. This workshop is a freebie!
Bio:
Dave is a Winnipeg based gardening educator, media contributor and founder/co-manager of Sage Garden Greenhouses. He has been growing and collecting plants since his childhood, inspired by the incredible diversity of species that can be raised in spite of the Canadian climate and excited by the amazing ways that people and plants intersect. Dave's first summer job as a teenager was at an herb farm run by a Buddhist couple, over looking the jaw dropping tides of the Bay of Fundy… a remarkable experience that continues to influence him to this day. Dave's approach to gardening is to keep sustainability front and centre, while continually looking for ways to make gardening easier, and full of joy.
As a self-proclaimed "rookie grower," Maggie is constantly reading, researching and swapping tips to up her gardening game. Since she was a little girl, Maggie's loved spending time in the garden but it's only in the last few years that her passion for growing her own food has blossomed. She loves both unusual plants and the classics, growing them all in her greenhouse and garden on her property near Birds Hill Park, Manitoba. Maggie is also the creator of From Soil to Soul — an online community for rookie growers. Check out her website to learn more
www.fromsoil2soul.com.
Website:
Email: